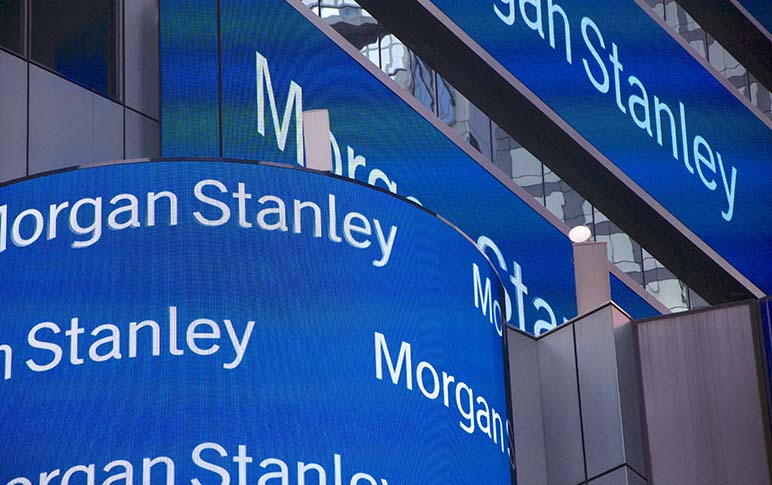 Morgan Stanley Wealth Management's employee loan balance shot up for the first time in eight years last year in a sign of the costs associated with its revived recruiting appetite, according to the company's annual report filed on Friday.
The wirehouse had $3.24 billion in employee loans outstanding, up 8.7% from $2.98 billion at the end of 2019, according to the filing. That compares with a decline of 13% in 2019 and follows sequential declines each year since 2012, according to a review of earlier filings.
The reversal comes as Morgan Stanley, which is the largest wirehouse by headcount, last year stepped up its recruiting efforts with a focus on high-producing teams from its wirehouse competitors after retreating from the expensive practice in 2017. The firm's offers can be three times a broker's trailing-12 month revenue including up-front back-end offers for top teams and amortized over a nine- to 12-year period, recruiters have said previously.
"They got back in the game," said Michael King, a New York-based advisor recruiter, who has placed advisors with Morgan Stanley. "They have been very competitive in terms of their offers."
Morgan Stanley's annual report did not address the reason for the increase in the loans, which it said are "are granted in conjunction with a program established primarily to recruit certain Wealth Management representatives." A Morgan Stanley spokeswoman declined to comment.
The average loan term rose to 5.3 years, up from 4.8 years in 2019, according to the filing.
Morgan Stanley ended 2020 with 15,950 advisors—482 more than 12 months earlier and 481 higher than at the end of the third quarter. While it added more than 200 call center-based E*Trade advisors from its acquisition of the discount broker, the wirehouse also larded its ranks with some mega teams, including a $14 million UBS group in Florida who allegedly negotiated a signing offer of $35-$40 million.
Morgan Stanley Chief Executive James Gorman has long chafed at high-dollar recruiting practices and noted in July 2018, amid its pullback, that focusing on internal growth among its existing sales force was "an economically much better proposition."
But the firm appears comfortable re-opening its wallet as it has emphasized its focus on "net recruiting" over the past year, a figure that Chief Financial Officer Jon Pruzan said in September is a "real important metric."
The rise at Morgan Stanley contrasts with a decrease of 9% year-over-year at its wirehouse competitor UBS Wealth Management USA, where recruiting loan balances have continued to tick down since it also pared down hiring and withdrew from the Protocol for Broker Recruiting in 2017.
UBS, which has fewer than 6,000 brokers in the U.S. compared to nearly 16,000 at Morgan Stanley, had $1.87 billion in recruitment loans to financial advisors outstanding, down from $2.05 billion a year ago, according to its fourth quarter earnings report.
UBS also re-entered the veteran broker recruiting fray last year although it has focused on many non-traditional competitors, including bank-based brokers and private bankers, which sources say can be less expensive. Many of its deals have been structured as guaranteed salary rather than as forgivable loans, which may also be contributing to the decline, recruiters said.
Competing wirehouses Merrill Lynch and Wells Fargo Advisors, owned by Bank of America and Wells Fargo & Co., do not break out forgivable loan balances in their regulatory reports.
Merrill has stuck by its own 2017 recruiting freeze and largely refrained from hiring veteran brokers as it focuses instead on drumming up business from its existing roster of advisors and homegrowing new talent.
Wells Fargo Advisors has been paying some of the highest offers on Wall Street with deals that can reach 340% of trailing-12 production for brokers who hit asset transfer and growth targets.
The competitive hiring environment has also trickled down to 'regional' brokerage firms, which have also been stepping up their offers. Raymond James & Associates said last week that they had raised deals and dropped some clawback provisions to compete with higher offers from competitors.
Read the original article on: https://www.advisorhub.com/morgan-stanleys-recruiting-loan-balance-jumps-back-above-3-billion/