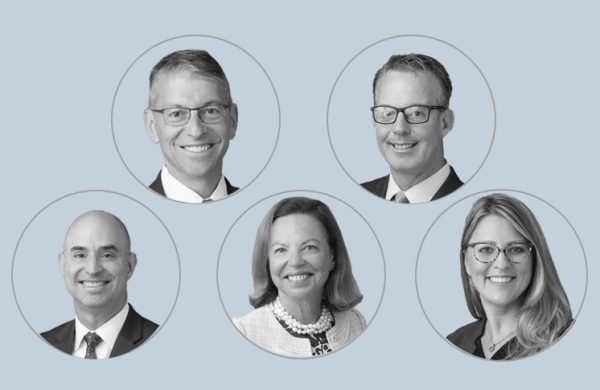 (L to R, from top) Harold "Hal" Reinstein, Michael T. Nelson, Daniel Sirota, Pascale Hainline and Kimberly Ferry moved to First Republic on Friday in Scarsdale.
First Republic Bank's Private Wealth Management division on Friday landed a Merrill Lynch team that had been generating over $12 million in revenue in the wealthy suburbs outside New York City, according to people familiar with the move.
The group, which had overseen $2 billion in client assets, is led by Harold "Hal" Reinstein and Michael T. Nelson and joined First Republic's Scarsdale, New York branch from a Merrill office in nearby White Plains, the sources said. They moved along with three other advisors–Daniel Sirota, Pascale Hainline and Kimberly Ferry–and four support staff.
Reinstein had been with Merrill for the last 26 years of his 28-year career, according to BrokerCheck. Nelson was a 23-year Merrill lifer.
Their departure came one week after a Merrill team with $4.5 billion in assets left on the opposite coast. Ash Chopra, who was said to have generated around $12 million in revenue, set up his own registered investment advisory firm.
A Merrill spokesperson did not immediately return a request for comment. Reinstein was ranked #35 on Forbes' list of Best-in-State Wealth advisors this year and managed money for individuals who typically have a net worth between $650,000 and $6 million, according to the publication.
First Republic has been aggressively courting wirehouse teams with high-end offers that can reach 375% of trailing-12 for top producers and promises of referrals from the San Francisco-based bank's commercial and investment banking customers. In another NYC-area hire from Merrill in June, First Republic landed Vishal Bakshi, the sole broker on a four-person team with $10 million in revenue and $1.5 billion in assets in New York City.
In a smaller move from Merrill in July, First Republic hired a $3.4 million producer Radhika Mehta-Sharan in New York City. It kicked off the year with an $8.2 million 'rising star' Merrill team led by Stephen M. Stabile and Adam C. Hirsch.
Reinstein and his team had been in conversations with First Republic and other firms regarding a move for over three years, according to Michael King, an industry recruiter in New York who was not involved in the move but was familiar with their practice.
"Moving that size team is never easy," King said. "It's a loss for Merrill and a gain for First Republic."
Sirota spent all but a rookie year of his 22-year career at Merrill, according to BrokerCheck. Ferry and Hainline were 18- and 13-year Merrill lifers, respectively. (Merrill separately confirmed earlier this month that brokers were eligible for its parent Bank of America's paid sabbatical program for employees with at least 15 consecutive years at the company.)
First Republic has around 200 brokers, which it refers to as wealth managers. Merrill's experienced broker count is around 11,000.
Read the original article on: First Republic Scoops Up $12-Million Merrill Team in NYC Suburbs